| Overall Rating | 5.0/5.0 |
| --- | --- |
| Communication | |
| Matching System | |
| Mobile Usability | |
| Registration | |
| Support | |
| Terms And Conditions | |


RSVP is Australia's number one dating service with some pretty amazing statistics. Nearly one out of every three people who use RSVP have found a long-term relationship, and another one out of five actually married the partner they found through the site. The basic account is free, which is great for if you want to give the site a try without committing just yet. The dating site has thousands of users, so it increases your chances of hitting it off with someone.

Visit RSVP Website >>
---
RSVP Communication
| Overall Rating | |
| --- | --- |
| E-Mail | |
| Chat Functions | |
| Video Chat | |
When it comes to RSVP's communication aspect, they do alright. The site does have an email function, which is great for when you want to carry on long conversations, but also want some time to think about what you're going to say or ask. It also has a chat function, which is the obvious next step in trying to get to know someone. Although it has these two features, it's unfortunately lacking a video chat function, which would be the next step you would want to take before actually meeting someone. This doesn't mean you can't video chat, it just means you can't do it through the safety of a third party.
---
RSVP Matching System
| Overall Rating | |
| --- | --- |
| Personality Test | |
| Profile Matching | |
| Profile Visitors | |
| Block Users | |
Most dating sites use different matching systems, and RSVP's seems to be one of the best. There is in fact a personality test used for matching, which makes things so much easier rather than needing to handpick options for yourself. In addition to that, they also use your profile criteria to better match you to people you may find interesting. These two combined really help you find someone who's a good match based on your interests, but also based on your habits and preferences. Another great feature is the ability to see what users have watched your profile. This is great for when you want to get an idea of what sorts of people are looking at you, and if you potentially want to contact them. Finally, you have the option to block users, which is crucial. This gives you the freedom to get rid of unwanted attention or protect yourself from people who may not take no for an answer.
---
RSVP Search Features
| Overall Rating | |
| --- | --- |
| Picture Search | |
| Keyword Search | |
| Now-Online Search | |
| Search By Profile Criteria | |
| Show New Members | |
RSVP also comes with a pretty comprehensive search function, an area where some sites lack ability. There is a photo search function offered, which is something a bit more complex and an exciting feature. You can also search by keywords offered, which can be helpful when you want to search or narrow things down, but need a little help figuring out what words will bring up the best results. Another search function is "who is online now", which can be great if you have a few people in mind and want to chat with them. Additionally, you can search by profile criteria (for those times when you just really want to find out one fact) and also by new members, just in case you've missed anyone great.
---
RSVP Mobile Use
| Overall Rating | |
| --- | --- |
| Mobile Usability | |
| App Usability | |
| Android App | |
| iPhone App | |
A lot of sites lack a comprehensive and usable mobile site, but RSVP is not one of them. The mobile version and app are both fantastic, with an option for Android and for iOS.
---
RSVP Usability
| Overall Rating | |
| --- | --- |
| Login with Facebook | |
| Ease Of Registration | |
| Ease Of Use | |
Registering for dating services can sometimes be a hassle, due to all the information you need to input, but overall RSVP makes this process as simple as possible. It's easy enough to register, it's not very time consuming and it's super easy to get yourself started. The only downside is that there isn't a Facebook signup available, which would have prefilled all your details, but overall the process is straightforward.
---
RSVP Popularity
| Overall Rating | |
| --- | --- |
| Facebook | |
| Male/Female Ratio | 50/50 |
| Main Age Range | 36-55 |
Although RSVP has a good number of users, they're aren't the best in terms of direct numbers, however, what they miss in numbers they make up for in quality. The profiles are usually pretty comprehensive, and there's an evenly split ratio between men and women, with the average age between the ages of 36 and 55.
---
RSVP Support
| Overall Rating | |
| --- | --- |
| Support FAQ | |
| E-mail / Contact Form | |
| Phone | |
| Helpful Articles | |
| Forum | |
RSVP's support system is also a pretty good indication of a good company. There is a FAQ section available if you have any additional questions and you do have access to an email address or form should you wish to speak to a representative. Unfortunately, there is no direct phone number though, nor is there a user forum to discuss the site and any potential issues with other users. Despite that though, they do offer help articles they write themselves, should you run up against any problems.
---
RSVP Terms And Conditions
| Overall Rating | |
| --- | --- |
| Free Offer | |
| Highest Price | 30.00 USD |
| Lowest Price | 14.00 USD |
| Free Trial Period | 0 |
| Monthly Plan | |
RSVP also doesn't try to trick you into costly subscriptions that you can't get out of. There's a basic free plan available, which is great for when you just want to check it out, but this does mean there is no trial period. The price level of the regular subscription is pretty average. They are upfront about any cancellation terms and you do have the option to cancel on a monthly basis.
---
RSVP Summary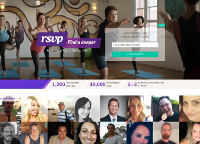 Overall, RSVP is a great site for meeting people because of the vast options you have for communication and for searching. We love that they have a free option available for those who might want to give online dating a try, but don't want to pay for it just yet. They're ahead of the game in terms of app and mobile usage and make up for what they lack in numbers in quality and assistance.